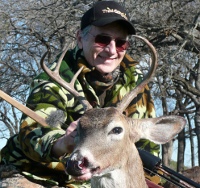 TANJ Webmaster Rob DiStefano and January 2012
buck taken at the Solana Ranch, Austin, Texas.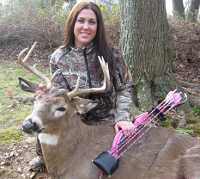 TANJ Secretary Kate Pachuta with her 2011 harvest taken with a custom Bob Lee Bicentennial, 45@26, 58". A 15 yard shot for this fine buck!
Joel Riotto with a big bull, shot with a Dale Dye 55 Lb. bow and 600 Grain Beman 400's with Wensel Woodsmen heads, while hunting with Full Draw outfitters in Colorado.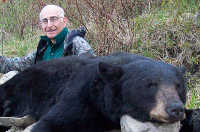 Joel Riotto again, the bear is one of two he harvested on a wilderness fly in hunt in Alberta, Canada. Dale Dye 55 Lb. bow and 600 Grain Beman 400's with Wensel Woodsmen heads.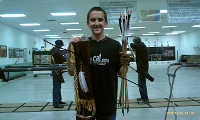 Pat Areas with TANJ donated traditional gifts for Xmas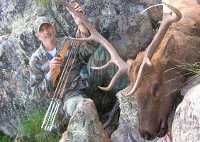 TANJ VP Jorge Coppen arrowed his "Bucket List" 6X6 bull elk in New Mexico on September 19, 2010 using a 1971 Bear take-down bow and a Legacy shaft tipped with a vintage 1970's 145 grain Bear Razorhead.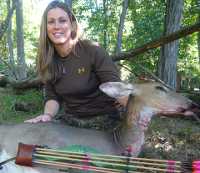 Kate Pachuta TANJ Secretary has two deer already under her belt and now can look for the buck they have been watching since the summer while scouting. Katie bowhunts with Bob Lee 47# Takedown Recurve, Gold Tip 15-35 arrows and Eclipse single beveled Broadheads. She and her boyfriend Ron practice shooting at 3d targets from a treestsnd every chance they get at the "DeCarRosa" - they kinda moved in hah!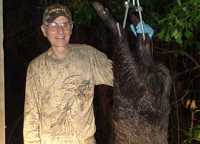 Rob DiStefano, another South Carolina hog but this one was a biggen. June 10th, 2010. 62" 55# Mohawk t/d longbow and 29.5" Beman ICS carbon with Wensel Woodsman broadhead. He just LOVES them piggies!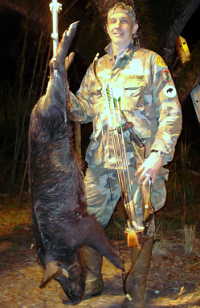 Jorge's hog from the 7th annual
TANJ Hog Hunt in Arcadia, FL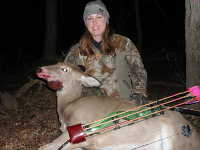 Katie Pachuta used a 45# Bob Lee recurve and Goldtip arrow tipped with a 300 grain grizzly broadhead to harvest a fine doe in 2009!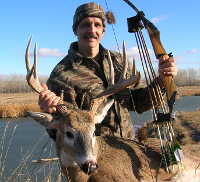 Jorge Coppen hunted at Nickie Roth's Archery Outfitters in Fairview, Montana last week and took this deer with a Bear takedown bow at 10 yards at 2:30 PM on Friday.
Big Buck Down!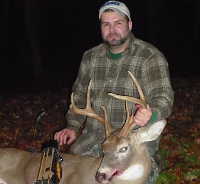 Ron Zilkowski with another fine buck the harvested during the 2009 season!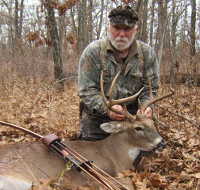 After seven long days of hunting in Missouri, John Decore harvested this dandy whitetail buck with a longbow.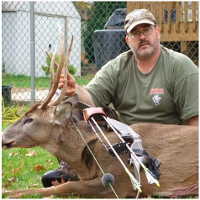 Pete LeMasson harversted this unique 4-point whitetail buck with a Black Widow MA II (60"; 60#@29") using a 2213 tipped with a 150 gr. Stinger Buzz in NJ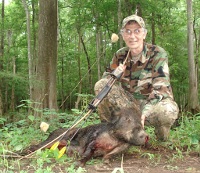 Rob DiStefano, South Carolina hog, June 7th, 2009. 62" 55# Mohawk t/d longbow and 29.5" Beman ICS carbon with Wensel Woodsman broadhead.
"November 4, 2008 at 7:45am - I had a deer 15 yards from my stand, I draw my selfbow back and loosed an arrow. 20 yards of running and the deer dropped. My self bow is of red oak 70" N2N 51#@24". I was using birch shaft 28.5" BOP w/160grn Snuffer. The arrow has a self nock cut in and three 4.5" hybrid nana cut wrapped fletchings." - Salvatore Patti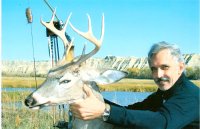 This 8-point buck fell to Jorge Coppen's arrow sent from a early 70s vintage Bear Take Down on the evening of October 2 on an Eastern Montana deer hunt.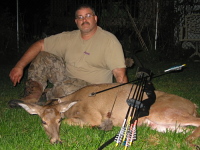 Peter LeMasson harvested this mature doe while hunting in Sussex,NJ on October 8, 2008 at 6pm.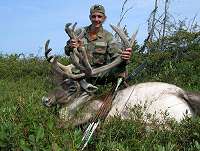 Jorge Coppen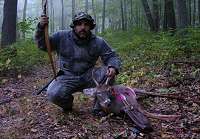 Salvatore Patti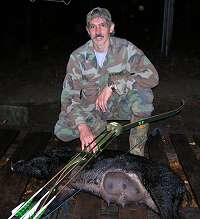 Jorge Coppen - "I took this 100 lb. sow on March 24 in South Carolina near the Santee River with a vintage 1976 Bear Kodiak Hunter and Legacy shafts tipped with a vintage Bear Razorheads."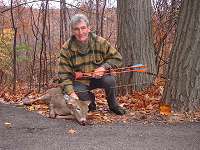 Ray Tareila (Florida) with his last NJ deer (2002).
A doe, shot adjacent to where he lived in Hunterdon County
within walking distance of the Clinton WMA.
A Howard Hill longbow with a Magnus 2-blade head on hand made cedar.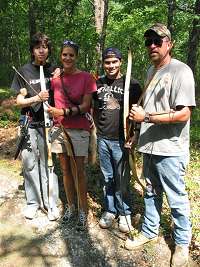 Fathers Day Shoot at Black Knight
John Bartolini,Karen Bartolini,Charlie DeCaro, Tom Eccles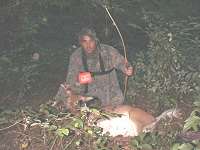 1st trad kill - Salvatore Patti, Hunterdon County, New Jersey,
September 10, 2005 Opening Day 6:35am, Whitetail Doe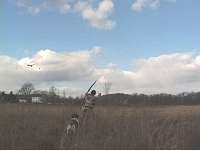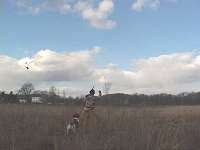 Bruce Garahan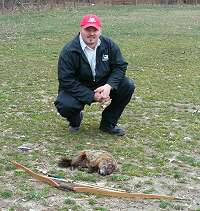 Barry Gandy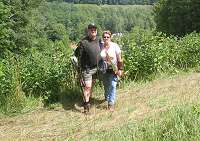 Mike Potts - Denton Hill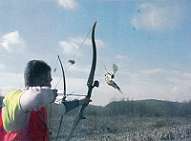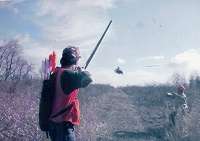 Pheasant Hunt
Frank & Phil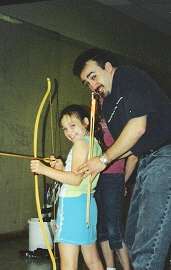 Jessie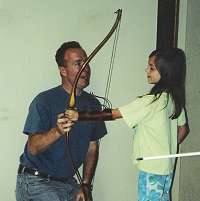 Brian and a very young archer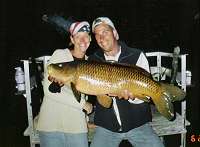 Judy & Steve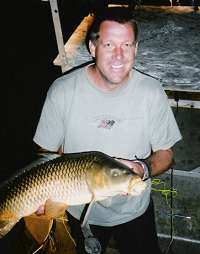 Glen Hurly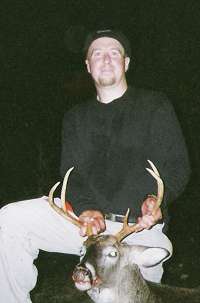 Brian Peters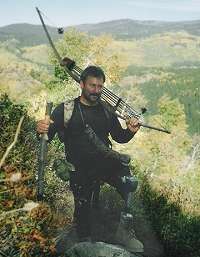 Frank Zsanek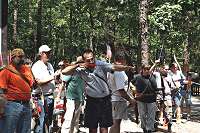 Jessie Warrnick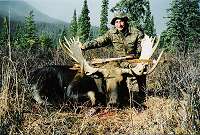 Joel Riotto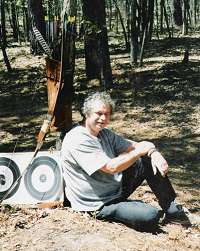 Mike Luster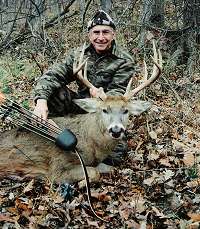 Joel Riotto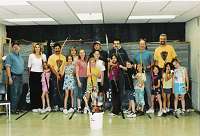 Teaching the kids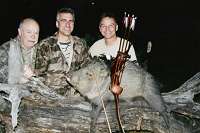 Gene Wensel, Phil Muller, Cory Mattson - in TX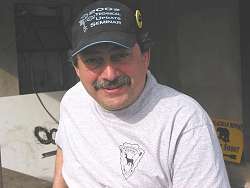 Dennis Souky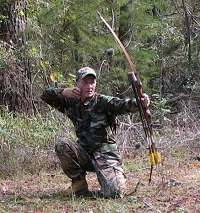 Rob DiStefano, warming up before a late afternoon South Georgia hunt for deer 'n' hogs, October 2007.